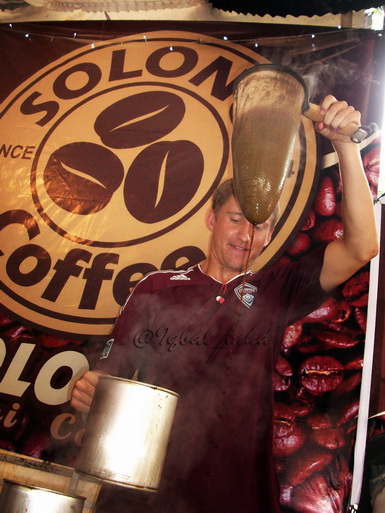 [quote]By Hotli Simanjuntak[/quote]
[dropcap]P[/dropcap]opularly known as the "Veranda of Mecca" for the religious devotion of its people, Banda Aceh is also famous as a city of one million warung kopi or coffee shops. It's a fitting nickname; on seemingly every street corner in the provincial capital are warung kopi, which sell world-renowned Aceh coffee.
"The Acehnese are simply inseparable from warung kopi. Chats and discussions of all sorts take place inside them," said Banda Aceh Mayor Mawardi Nurdin.
According to Mawardi, drinking coffee in shops has long been part of the local culture.
The local tradition of enjoying coffee remains a popular today, with executives, NGO workers, journalists, local politicians and other officials networking and sharing ideas over steaming cups of the strong brew.
"It is common to find people sitting and sipping their coffee while working on their laptops and having serious discussions. Warung kopi have become second offices for many people here," said Mawardi.
In Aceh, a warung kopi is not a place where time is wasted on idle chit-chat; on the contrary, it supports one's daily formal activities in the office.
"The popularity of warung kopi is also enhanced by the free internet facilities available; today, all warung kopi have such facilities" added Mawardi.
To create a connecting "bridge" between the coffee culture here and tourism in the province, Banda Aceh's administration recently held the Aceh Food and Coffee Festival (AFCF) at Taman Sari in Banda Aceh.
"We expect this event to improve Banda Aceh's tourism and have a positive impact on its economy, including coffee farmers, warung kopi and those working in tourism," Mawardi added.
The head of Banda Aceh's Cultural and Tourism Office, Reza Fahlevi, said the four-day AFCF included various activities and competitions, such as drinking hot coffee, brewing coffee and cooking competitions. There was also a seminar on coffee and coffee tasting.
"We hope through this event that Aceh's coffee and its traditional food will become more prominent," Reza said.
Thirty-eight participants from across Aceh attended the festival and they included workers in the coffee and food business, exporters and owners of warung kopi as well as food vendors specializing in Acehnese cuisine.
Reza said the Aceh Coffee and Food Festival was planned to be an annual event with the objective to promote and create a positive image of Aceh through its coffee and cuisine. It was also intended to create "love" for local products and simultaneously boost the spirit of local businesspeople dealing in Aceh's coffee and food.
"Drinking coffee is part of our local culture, but some Acehnese remain unaware how famous our coffee is all over the world," he said.
He added that the event presented a great variety of Acehnese food via a number of cooking demonstrations, an exhibition of 1,000 local snacks, and the famous dishes khanduri with gravy, sie kameng as well as khanduri bu lam on.
Apart from offering its home-grown coffee and traditional cuisine, Banda Aceh, as the gateway to Aceh province, also presented a number of attractive tourism activities and packages.
One of the tourist sites was the area ravaged by the tsunami on Dec. 26, 2004, to give visitors an understanding of just how devastating the natural disaster was and how its effects are still being felt.
"It's more a kind of educational tourism so that the public becomes more aware about earthquakes and tsunamis and how they should be grateful to the Almighty so that such an event does not occur in the future," Reza said.
Other tourist attractions include the Tsunami Museum; a collective graveyard for the victims of the tsunami; Ulee Lhuee with its ground-zero mosque; Blang Padang field with its Thanks To The World monument; a replica of the first Garuda Indonesia aircraft donated by the people of Aceh; the PLTD Apung ship in the region of Blang Oi; the ship washed up on a house in Lam Pulo, as well as a place where one can purchase Acehnese souvenirs in Banda Aceh.
"These are all historical sites and artifacts that need to be preserved so that future generations will be more aware about the tsunami that occurred in Aceh," said Reza.
The Tsunami Museum is the most appropriate for educational tours, as inside there are artifacts and photos about the tsunami as well as a related documentary film.
It is also important to take a look at the PLTD Apung ship. The 26,000-ton tug boat was tossed 6 kilometers inland, not far from Ule Lhuee Banda Aceh port. Today, it is a well-maintained tourist site.
"We want the tsunami tours to become spiritual tours as well, which will create respect for the Almighty and His power," Reza added.
Visiting Banda Aceh's tsunami locations will invoke both spirituality and a deep sense of human brotherhood, inspired by the nations and individuals who contributed to the rebuilding of Aceh in the aftermath of the tsunami.[]
The Jakarta Post